« 2018/02 »

| 일 | 월 | 화 | 수 | 목 | 금 | 토 |
| --- | --- | --- | --- | --- | --- | --- |
| | | | | 1 | 2 | 3 |
| 4 | 5 | 6 | 7 | 8 | 9 | 10 |
| 11 | 12 | 13 | 14 | 15 | 16 | 17 |
| 18 | 19 | 20 | 21 | 22 | 23 | 24 |
| 25 | 26 | 27 | 28 | | | |
관리 메뉴
The Rain Parade 본문
NO WAVE
The Rain Parade
NO WAVE 2008.09.02 10:36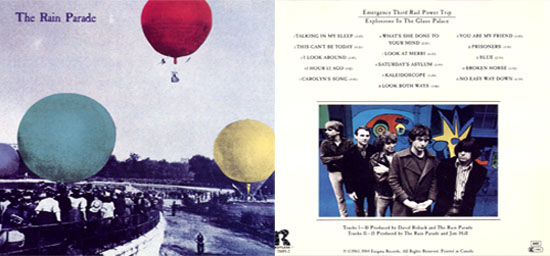 The Rain Parade
80's American Janglepop / Paisley Underground / Neo-Psychedelia


비가 올 때 들으면 쟁글쟁글 기타소리가 빗방울들이 굴러가는 소리처럼 들린다. Radin Parade는 80년대 쟁글팝사운드로 서부의 Paisley Underground로 축을 이룬다.기타의 David Roback은 후에 Hope Sandoval과 함께 "Mazzy Star"를 결성하였다.


Emergency Third Rail Power Trip(1983)

1 Talking in My Sleep
2 This Can't Be Today
3 I Look Around
5 Carolyn's Song
6 What's She Done to Your Mind
7 Look at Merri
8 Saturday's Asylum
9 Kaleidoscope
Explosions in the Glass Palace(1984)

10 Look Both Ways
11 You Are My Friend
13 Blue
14 Broken Horse
15 No Easy Way Down
+ Paisley Underground

Pasley Underground는 LA의 서부를 기점으로 Dream Sydicate, Thine White Rope, Three O'clock, Green on Red, Opal의 대표적인 밴드가 있다. 60년대의 싸이키델릭 음악에 영향을 받아서 날카로운 기타음과 쟁쟁거리는 기타음이 특징이다.
Rain Parade
Thin White Rope
The Three O'Clock
Green on Red
공유하기 링크